Blog
Sep 19, 2019
Laverne Cox to Keynote Checkr Forward 2019
Checkr Editorial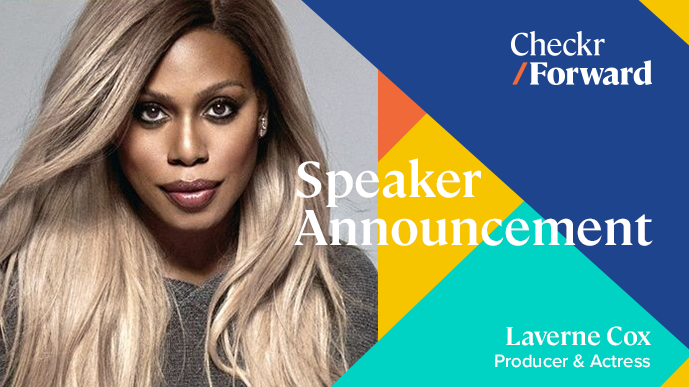 We're thrilled to announce that actress and LGBTQ+ advocate Laverne Cox will be our featured keynote speaker at Checkr Forward 2019. This year's event will feature industry leaders who are at the forefront of HR, talent, safety, and compliance, along with Checkr customers and partners. Laverne will draw on her experiences to challenge us about the opportunities and impact of diversity and inclusion.
An artist and advocate, Laverne has inspired millions with her journey to live more authentically. She is best known for her groundbreaking role of Sophia Burset in the critically acclaimed Netflix original series Orange is the New Black. With this role, she became the first trans woman of color to have a leading role on a mainstream scripted television show. Laverne has earned numerous honors and award nominations for her work and advocacy, including an Emmy nomination for "Outstanding Guest Actress in a Comedy Series," and a SAG Award for "Outstanding Performance by an Ensemble in a Comedy Series." Join today to hear Laverne's perspective on diversity and inclusion. 
In addition to Laverne, our first wave of speakers include:
Patricia Cartes Andres, Director, Trust & Safety and Insurance Operations, Postmates  
With over 5 million deliveries a month in over 3,500 cities and towns, Postmates is changing how we shop for everything. Patricia will bring her company's insights and best practices for increasing safety for customers, drivers, and merchants. 
Xavier de Gracia, Director of Operations, Handy 
Handy is one of the fastest-growing providers in on-demand household services from cleaning to repair and installation. Xavier will share Handy's keys to success in using data and artificial intelligence to grow its community of independent service professionals.
Noah Labhart, Co-founder & CTO, Veryable 
Veryable is changing the equation for labor in manufacturing with just-in-time staff-up for production. Noah will cover their latest innovations in labor and how they're attracting the best dynamic workforce for manufacturers.
Scott Wintrip, Author 
Scott is a member of the Staffing 100 and Recruiter Magazine's Top 40 under 40. Creator of the award-winning podcast and book High Velocity Hiring: How to Hire Top Talent in an Instant, Scott will share the latest ways innovative companies are improving recruiting and hiring to win talent fast.
We'll be announcing additional speakers from our roster in the coming weeks. Until then, learn more about the sessions at Checkr Forward and register here for early bird pricing until it ends on October 15.
---
---
Laverne will draw on her experiences to challenge us about the opportunities and impact of diversity and inclusion.